While President Uhuru Kenyatta remains the most famous son of Kenya's first President Mzee Jomo Kenyatta, a number of his siblings prefer keeping a low profile, despite being members of the prominent family.
One such is Peter Magana, the only child between the founding father and his British wife Edna Clarke, who is rarely in the public limelight.
Edna was married to Kenyatta in a wedding ceremony on May 11, 1942 at the Chanctonbury registry office at Storrington in Sussex. Kenyatta left Edna in England when he returned to Kenya in 1946.
Magana was born on August 11, 1944, in Worthing Hospital within West Sussex, United Kingdom.
Not much is known about Magana whose presence in Kenya has been fleeting.
Magana, 79, lived in the United Kingdom with his mother who died in 1995 at the age of 86.
Kenyatta left the UK barely two years after Magana was born and returned to Kenya where he married his third wife, Grace Wanjiku, Senior Chief Koinange's daughter and sister to Mbiyu Koinange.
During the inauguration of President Uhuru Kenyatta in 2013, Magana was not among the distinguished guests that graced the event.
On August 22 ,2019, Magana flew to Kenya to attend what would be the last public memorial service for his late father Mzee Jomo Kenyatta.
At one point, Mzee Jomo Kenyatta is said to have tried to entice Magana into moving to Kenya by offering him a post in his government but to his surprise, the young man opted to go back to the UK.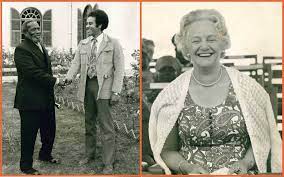 Magana is a family man, married with three children and several grandchildren.
Magana who resides in London is known to live a simple life and is rarely at any of the family functions.
He missed several funerals and even his younger brothers inauguration as the fourth President of Kenya.
RELATED STORY: Excitement As Kenyatta Wins In US Elections