Whistleblower Spencer Sankale who exposed the money siphoning scheme that was taking place at Maasai Mara University has been sacked.
Spencer played a key role in exposing how millions of shillings were being siphoned by a group of powerful individuals in the University led by their Vice-Chancellor. The expose was covered by Citizen TV on September 1, 2019, tagged 'Mara Heist.'
The Mara Heist: What happened to Spencer Sankale and fellow whistleblowers? https://t.co/HoxZuJHopF via @YouTube

— Citizen TV Kenya (@citizentvkenya) December 4, 2019
Spencer has been sent packing by the Maasai Mara University Council after a disciplinary meeting held by the University on June 16, 2020, found him guilty of gross misconduct on nine charges.
The letter claims that Spencer was found guilty of sustained insolence against his employer, malicious misrepresentation of his employer, libel and defamation and falsely maligning the image and reputation of the university.
He was the senior accountant of the Maasai Mara University.
Further charges indicated in the letter which has been seen by People Daily include; sustained disregard of university standards and procedures, sustained incitement of university staff and the general public against his employer, sustained insubordination, and failure to act in the best interest of the university.
"Due to the aforementioned, the Council resolved to summarily terminate your employment with the university with immediate effect, in accordance with section 44 (4)(d)(g) of the Employment Act," read the dismissal letter by University Chairman Dr. Kennedy Ole Kerei.
Spencer has been sacked after he exposed the University Vice-Chancellor Prof Mary Walingo who even was captured by discreet cameras dishing out money allegedly illegally. She allegedly misappropriated Sh176.1 million.
At the center of the exposé was Spencer, Wilberforce Serem who was then acting deputy finance officer, and 2 others who sought anonymity.
In December 2019, Spencer told Citizen TV that he had begun experiencing intimidation at his workplace since most of those who were incriminated remained at their workstations.
"I can feel intimidation. Nothing has changed… My workplace remains a scene of the crime with the same criminals," he said.
Others linked to the scandal included deputy VC Administration, acting deputy VC student affairs Simon Kasaine Ole Seno, finance officer John Almadi Obere, Anaclet Biket Okumu, and the VC's driver Noor Hassan Abdi.
The five were separately charged with 10 counts ranging from misappropriation of public funds, abuse of office, failure to comply with public finance regulations, and stealing by a public servant.
The case to date has not been finalized.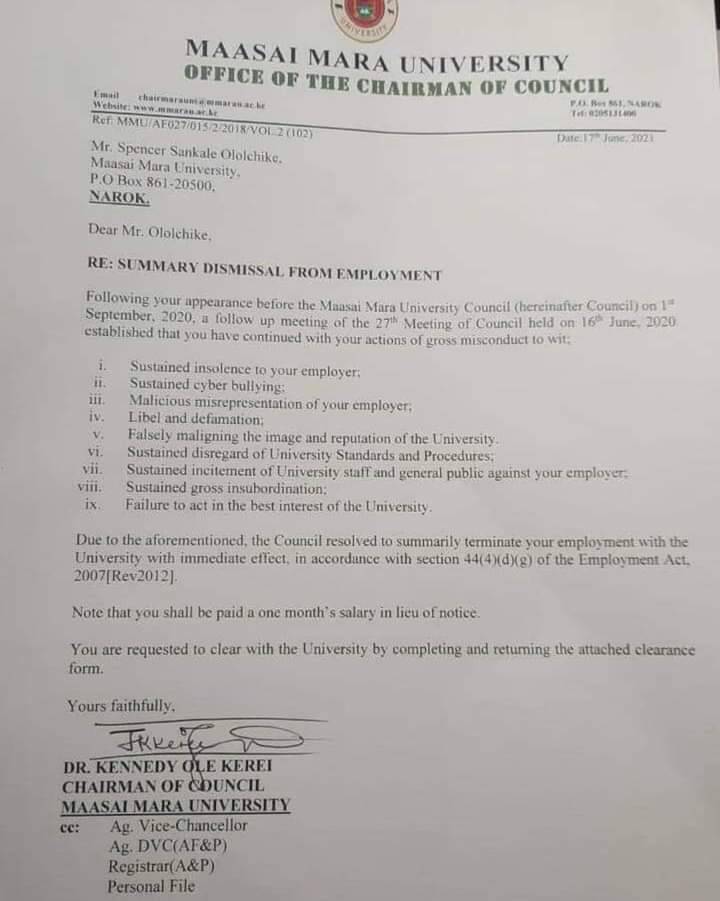 RELATED POST: 21-Year-Old Lesbian Raped For Hours By 39-year-old Anti-LGBT Ruffian