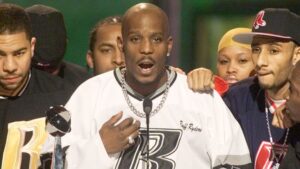 KEY POINTS
Grammy Nominated US rapper DMX suffered a heart attack after suspected overdose.

Has been taken off life support and is now breathing on his own. 

His condition remains a cause for concern. 
Friday night saw 50-year-old Earl Simmons, also known as, DMX, admitted to a New York hospital after suffering a heart attack and is in 'grave condition.' His attorney Murray Richman stated.
Celebrities fans and other musicians have posted messages on social media saying that they're praying for his recovery while some of his children and his wife are by his bedside while the public is gathering outside the hospital.
Throughout his career he has released 7 albums and has been nominated three times for the Grammy over a span of 20 years. He is a multi platinum selling artist and has also paved his way as an actor, starring in multiple films including; Romeo Must Die and Cradle 2 The Grave among many others.
Over recent years, the rapper has publicly battled with substance abuse and has been committed to rehab several times. In around 2019, he had to cancel a series of shows he had planned out in order to check himself into rehab for substance abuse and this was right after serving a year long jail sentence for tax fraud and tax evasion, that he pleaded guilty for earlier that year.
Earl Simmons (DMX) is a Christian and has stated that he reads the bible everyday. He is currently a transitional deacon at 'Christian Church' and is aspiring to be a pastor. He stated that he received this call in 2012. He is a father of 15 children with whom he has had with his ex wife Tashera Simmons and Fiancée Desiree Lindstrom. He has also had multiple extra marital affairs, some of which produced children.
During his early life, he suffered greatly from bronchial asthma, being taken into the emergency room almost every night, because he kept waking up unable to breathe. He also went through a difficult childhood that included being beaten by his mother and her various boyfriends so terribly, that at some point, he lost teeth and sustained numerous bruises and cuts on his face. At the tender age of 14, he ran away from home to escape his mothers abuse and begun wondering the streets and befriending stray dogs. Soon after he begun doing this, his mother sent him a 'boys home', where he made friends with other boys over their shared love for hip hop. They encouraged him to continue writing music. Later he chose the name DMX which he later interpreted as 'Dark Man X'.
His mother, Arnette Simmons and fiancée Desiree Lindstrom have been by his side since Friday (April 2) the night after he reportedly suffered a heart attack.