Quickmart supermarket has rendered a written apology following recent complaints by sections of Kenyans regarding how they were being handled at the facility.
One Kenyan had recently complained that Quickmart supermarket Ruaka branch had a variance with regards to the real price and what was captured in the paylist. The customer had reportedly bought goods worth 35 shillings but the receipt captured 100 shillings.
"Quickmart supermarket why do you treat customers in such a way… Telling a customer atoe kila kitu kwa handbag aeke chini ndio muone amebeba nini!! Last week it was about price matters… Bought a commodity ya 35bob alafu kwa paylist mnaweka 100bob!!! #QUICKMART SUPERMARKET RUAKA#" Wrote one Nyaboke Oenga.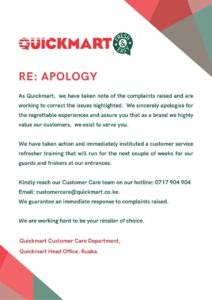 In a rejoinder, the supermarket wrote: "As Quickmart, we have taken note of the complaints raised and are working to correct the issues highlighted. We sincerely apologise for the regrettable experiences and assure you that as a brand we highly value our customers, we exist to serve you.
"We have taken action and immediately instituted a customer service refresher training that will run for the next couple of weeks for our guards and friskers at our entrances." Concluded the statement.
In the meantime, Sonko News recently reported how Quickmart Kamakis was turned into a small river by the floods brought about by the heavy rains in the country.
From the video clip shared online, water found its way into the supermarket with customers and employees watching helplessly.
Attempts by the staff to drain the water were unsuccessful as the water level kept increasing significantly leading to the destruction of a number of goods that were on the floor, especially the store.
According to the facility employees, there had been huge rains and they were shocked when water started flowing in abruptly, something which they did not expect.
RELATED STORY: Socialite Bridget Achieng Curses Edgar Obare, Claims God Will Fight For Her