Popular Nigerian lesbian Elladeevah Ellios was gang raped for two days after falling into a trap orchestrated by her friend.
The Ghana based Nigerian lesbian announced she was drugged and gang raped in a post on Facebook on Wednesday.
"I was recorded, drugged and raped for 2 good days!! Current location Cantoment police hospital. I need all the support I can get. My life has come to an end, I want to die," Elladeevah Ellios wrote.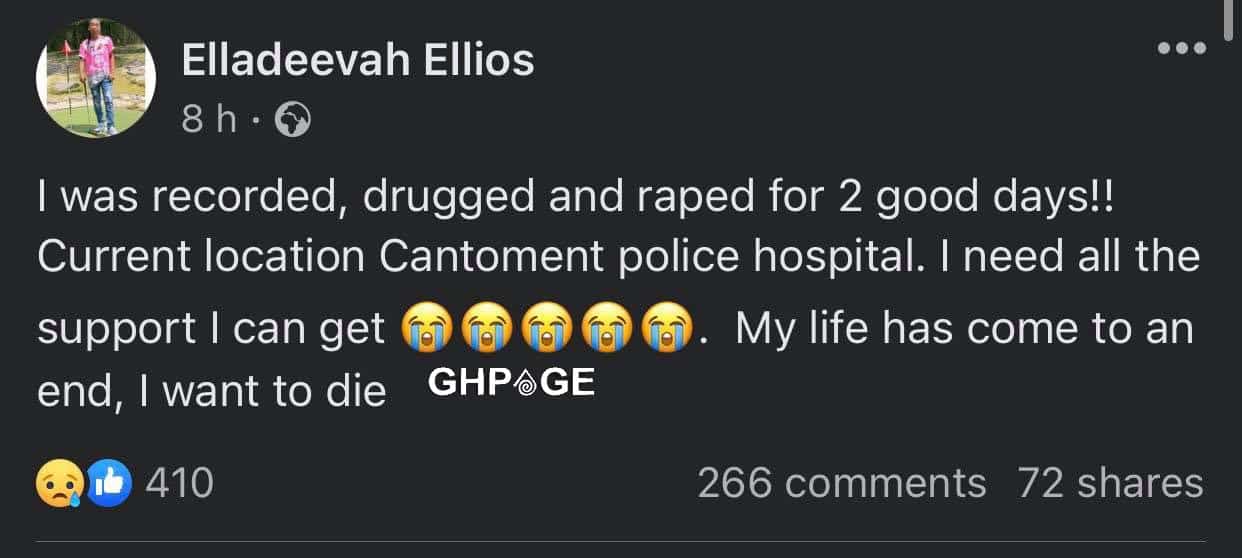 Ellios revealed more details about her harrowing ordeal in a follow-up post. She revealed that she was lured into the trap by her own best friend – a man.
She said that her friend of three years led her into the trap where she was drugged and ganged raped by three Nigerian men plus the friend.
The popular lesbian further disclosed that she reported the matter to the police and her friend was arrested but he denied everything.
"If there is anything I will lie about in my life, it's not rape!! There's no way the accused/suspect will come out and agree to being guilty. Yes I've known him for close to 3 years, which I told the police, but I never in my life imagined being drugged by someone I trusted and gang raped by his friends, for reasons best known to them which clearly has to do with my openness about my sexuality," wrote Ellios.
She added that;
I will hold my peace and won't comment on this matter again, I will let justice take it due course.. To those jumping into conclusions and waiting to laugh, insult, discredit me, know that this could have been you or your relatives. I hope u will also defend him in court. Let the law and the evidences provided speak for me. For the fact he is claiming otherwise and denying has only given me more reason to legally pursue this to the end, if it will take my last drop of blood to bring him and the other guys, I swear on the life of my entire generation!
"I will do whatever it takes to bring him to justice! I am only lesbian, I did not kill anyone, I had a male friend who I trusted and severely share money with due to the business we are both into, if that was his reason for having him and 3 other Nigerians have their way with me sexually and now denying cos he feels I have no memory of what happened, well let the court decide. I will be going off all social media soon and will not comment on this. I'm traumatized and need counseling."
Related: Lesbian Njeri Makena Explains How The Tongue Has Helped In Her Gay Journey