Paul Pogba has become the latest footballer to pander, sponsors after he removed a bottle of Heineken in front of him during a press conference.
Pogba was captured removing the Heineken bottle on top of the table away from his eyesight as he responded to the media after France defeated Germany on Tuesday night.
Pogba is a devoted Muslim and his actions would be interpreted as deep faith in the religion which forbids alcohol.
First Ronaldo with the Coca-Cola…

Now Paul Pogba wasn't happy with the Heineken in front of him at his press conference 🍺❌ pic.twitter.com/SU1ifQPGOP

— Goal (@goal) June 16, 2021
For Muslims, alcohol is 'haraam' or forbidden, with the Manchester United star's removal of the bottle likely to be due to his unwillingness to endorse the competition's sponsor.
Pogba's stance comes after Cristiano Ronaldo removed two bottles of Coca-Cola placed in front of him prior to Portugal's game against Hungary.
Appearing at a press conference on the Euros tournament, Ronaldo removed the Coca-Cola drinks out of his sight which has made the company record a loss of $4bn.
Ronaldo instead, told people to drink water during a press conference in Budapest on Monday in the prelude to his country's Group F game against Hungary.
Ronaldo followed it by holding up a bottle of water before declaring in Portuguese: "Agua!", appearing to encourage people to choose that instead.
According to the Guardian, Coca-Cola's share price dropped from $56.10 to $55.22 almost immediately after Ronaldo's gesture, a 1.6% dip. The market value of Coca-Cola went from $242bn to $238bn – a drop of $4bn.
According to the Manchester Evening News, Pogba became a Muslim in 2019, describing the decision as making him more 'peaceful inside.'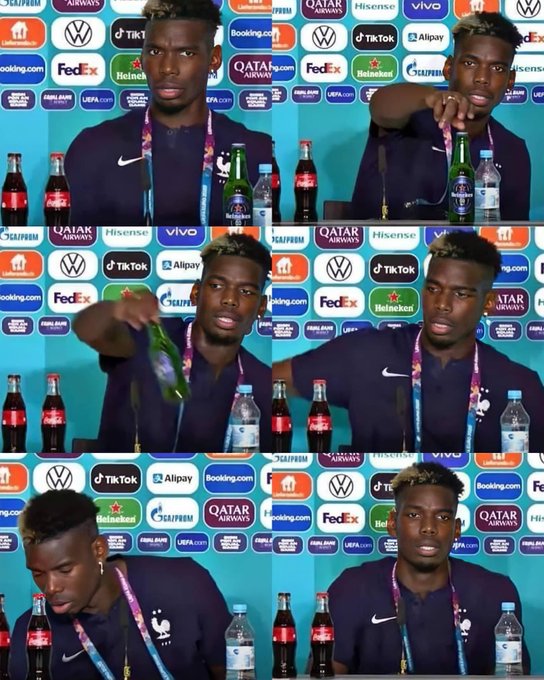 'It's everything. That's what makes me thankful for everything,' Pogba told the Times via MEN of his decision to worship Islam.
'It made me change, realize things in life. I guess, maybe, it makes me more peaceful inside.
'It was a good change in my life because I wasn't born a Muslim, even if my mum was. I just grew up like that, with respect for everyone.
RELATED POST: Kenya Power Under Pressure As Unknown Firm Pockets Ksh50.2B From Its Sales