Otile Brown has ultimately reconciled with Nadia Mukami after thrashing their music collabo which they dropped early this year.
Nadia featured Otile in a song dubbed 'Kolo' which was released on February 2nd 2021. The song has so far garnered over 3.4 million views on YouTub
Weeks ago, Otile surprisingly thrashed the collabo with Nadia despite the song faring well on the music charts.
Otile claimed he didn't feel his collabo with Nadia because he was not 100% involved in it, he claimed that he was denied the chance of composing the song.
The 'Dusuma' hit maker further boasted that any song he is involved in fully is easy to know, indirectly stressing that all of his songs turn out to be big hits.
"Huo wimbo sio wangu jamani.. alikataa niandike akasema "I want a hit song not a good song" weeh!! nikaeka verse yangu nikaondoka nilifanya kwa heshia ya Vicky pon dis tu! Wimbo ambao nina husika 100 utaujua tu! Y'all be trolling me ever since it came out.. plz y'all understand & let it slide.. it's messing up my peace.. nilijifunza.. kama siupendi sikai 100.. Respectfully & with love. Nothing personal," wrote Otile Brown.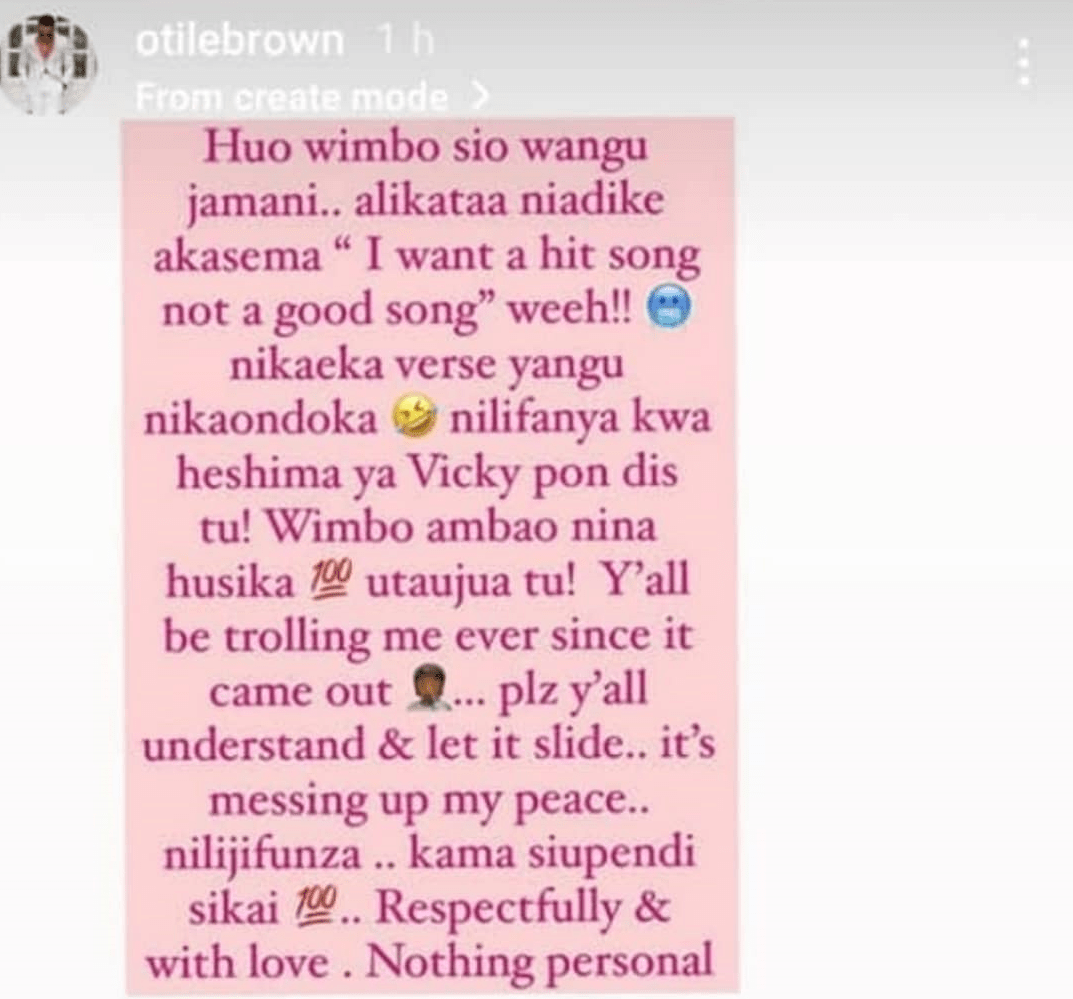 Otile has since eaten the humble pie and apologized to Nadia over his negative comment about their collabo.
Nadia and Otile rubbed shoulders during the launch of singer Bahati's new album over the past weekend.
It was during the album launch that Otile apologized to Nadia. He was remorseful for being mean and claimed that he was just having a bad day when he made the negative comment about their collabo.
"Apologies queen… was tricked out of my position by a negative opinion.. was having a bad day," wrote Otile Brown.
Otile is seen in a tight embrace with Nadia in a video he shared on social media. The two singers hugged and embraced each other in blatant violation of Covid-19 safety protocols.
Nadia is heard telling Otile "ulifanya vibaya sana (what you did was totally wrong)".
Related: Lilian Muli Reveals That She Has Big Crush On Otile Brown