Leaked photos and video show Harmonize's ex girlfriend Kajala Masanja and her teen daughter Paula posing completely naked together.
Mother and daughter have been making headlines for all the wrong reasons after their [email protected] photos and videos were shared online.
The origin of the nudes has not been immediately established, they were leaked by pseudo accounts to avoid legal action.
Kajala was forced to issue a public statement after the nudes went viral on social media and critics started castigating her.
The mother of one dismissed the leaked nudes saying they were photoshopped by people out to taint her reputation.
She stressed that her face and that of her daughter were placed on the bodies of unknown naked women.
The Bongo movies actress also pointed out she has a very conspicuous tattoo on her back, which the woman alleged to be her in the viral photos and video doesn't have.
Kajala further noted that she can never pose naked with her own daughter. She said the photos and video have caused her so much pain as people question her morals and parenting abilities.
"I have never and will never take such a picture with a daughter I carried for nine months and gave birth in so much pain. I might be having many weaknesses, but don't forget I am a mother," said Kajala.
"My pain for Paula is similar to yours for your child. Even if I am ratchet like you say, I can not get to the point of taking nude photos with my daughter, I am God-fearing," she added.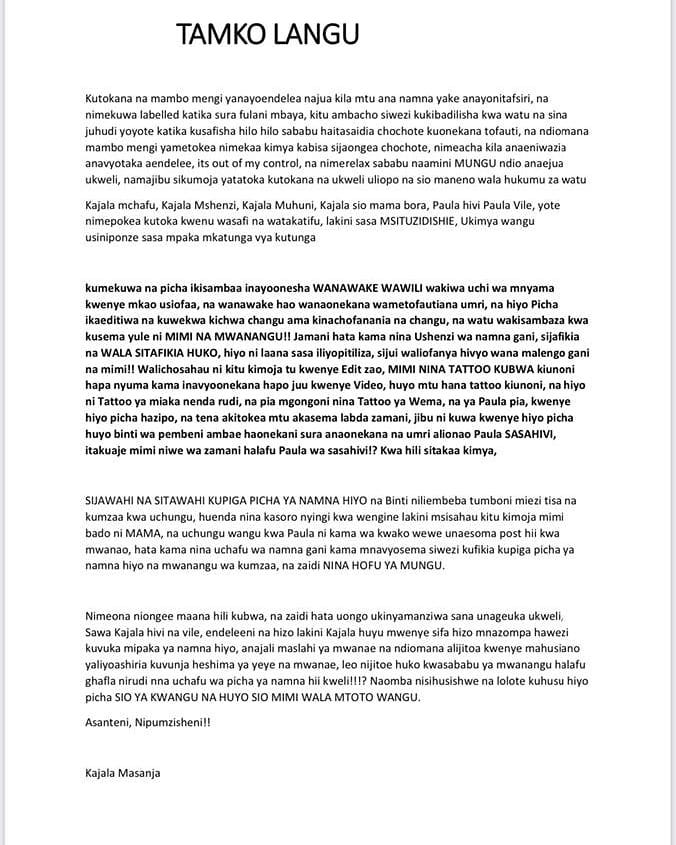 Kajala broke up with Harmonize in April after she found out he was seducing and tried sleeping with her teenage daughter.
Harmonize accused Kajala, Paula and Rayvanny of leaking his nudes and private chats soon after the breakup.
Kajala, Paula, Rayvanny and three other people were arrested in April in connection with the leaked Harmonize's nudes.
The six were released on bail but the matter is yet to be arbitrated.
Related: Frida Kajala, Daughter Paula Arrested For Leaking Harmonize Nudes