Kenyans have resurrected the memories of Mike Sonko Rachael Shebesh nudes after the former Nairobi governor mocked the immediate United Nations Conference on Trade and Development (UNCTAD) secretary general Dr. Mukhisa Kituyi.
Mike Sonko had hit Mukhisa Kituyi as a useless man for allowing the woman they were with to enter the hotel with her phone.
"Some men are very useless and big for nothing. Unawachaje dame na simu kwa pekejeng." Tweeted Mike Sonko.
However, Kenyans could not take that tweet from Mike Sonko lying down forcing them to share his past photos with former Nairobi woman representative Rachael Shebesh.
These Kenyans wondered why Mr. Sonko was bashing Mr. Kituyi for allowing the phone in an exercise room while he also allowed his sweetheart Rachael Shebesh to have the same to the extent of taking selfies.
Just to sample a few tweets, this is how Mike Sonko's twitter followers reacted at his tweet bashing Dr. Mukhisa Kituyi.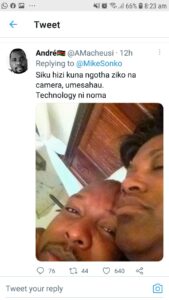 "You are useless too..unachukua selfie aje na uko kwa pekejeng." Wrote one Lawi.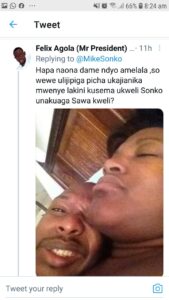 "Hapa naona dame ndio amelala, so wewe ulijipiga kifua  picha ukajianika mwenyewe laikini kusema ukweli Sonko unakuanga sawa kweli?" Posed Felix Agola.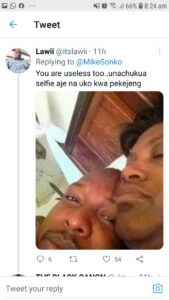 Another follower by the  name Andre added: "Siku hizi kuna ngotha ziko na camera, umesahau. Technology ni noma."
The woman behind the trending video is one Ms Diana Opemi Lutta who claimed that Dr. Mukhisa was her boyfriend and that he threatened her at a Mombasa hotel after she declined his sexual advances.
According to Daily Nation, an inquiry file into the incident was opened at the Nyali Police Station last week following reports of an assault case by Ms Lutta against the 2022 presidential candidate.
"The report alleges that the accused person pushed her from the bed and she fell on the floor where he then kicked her, hence sustaining injuries in the left knee." Reported the Daily Nation.
RELATED STORY: Mukhisa Kituyi Unite Kenyans After A Sex Worker Releases His Nudes