Ghana's Supreme Court on Thursday, March 4, upheld President Nana Akufo-Addo's election victory.
The court rejected a challenge by the runner-up John Mahama who claimed that there were irregularities in the elections.
Akufo-Addo was declared the winner of the December 7, 20202 elections after garnering 51.59% of the votes, ahead of former President Mahama John Mahama who received 47.37% of the vote.
The petition had been brought by the NDC's candidate, former president John Mahama, who termed the last year's poll "fraudulent".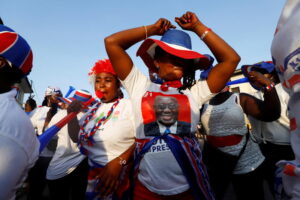 Mahama claimed that the votes had been added to the incumbent's total in some polling stations, pushing him above the 50% threshold required to avoid a runoff. The Supreme Court noted that Mahama's allegations lacked merit.
"The Petitioner based his case on erroneous figures quoted earlier by the Electoral Commission chairperson, which was later corrected by Electoral Commission," said chief justice Anim Yeboah.
More follows…
Related: Ghanaian Journalist Comes Out As Gay On Live TV After Denying It For Years