Striker Edinson Cavani has extended his contract with Manchester United until June 2022 which is one more season.
This news has been confirmed by Sports Journalist Fabrizio Romano through his Twitter page.
According to Fabrizio, United's board is determined to keep Cavani for one more season.  Ole Gunnar Solskjaer also has been holding talks to convince him to stay at United.
He has gone ahead to state that the official announcement will be released by Manchester United in the next few days.
"Edinson Cavani has signed until June 2022 with Manchester United, one more season. Official announcement expected in the next days but the deal is done and completed. Here-we-go," Fabrizio wrote on Twitter.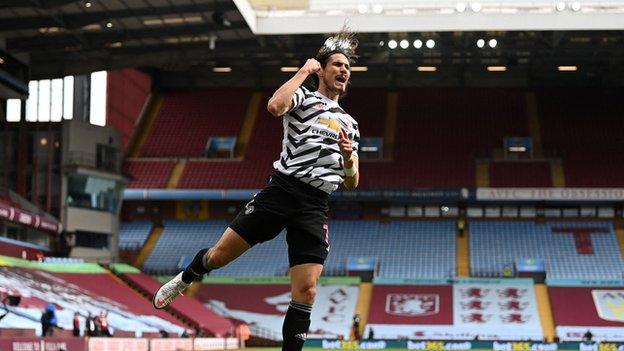 Cavani, nicknamed El Matador, who joined Manchester United as a free agent was on the radar of Boca Juniors, the top club in Argentina. His link to the club came after his father stated that he was not happy at United.
This was mostly contributed by injuries he used to pick game after the other which threatened to end his stay at united.
Cavani joined the Red Devils as a free agent at the start of the season. He has since impressed the side. His recent performances have been outstanding.
Cavani scored his eighth goal in seven games – and his 15th in total – in Sunday's 3-1 Premier League win at Aston Villa.
He has so far become a darling to most Manchester United fans. Cavani expects a standing ovation in the Stretford End as United plays Fulham on the weekend.
He has been helping a lot of players in Manchester. Mason Greenwood is a perfect example. So far Greenwood has 11 goals despite a poor start during the season.
Both Cavani and Greenwood have pillaged 10 goals between them in United's last five games. Credit has been given to Cavani who is always mentoring him to become a top finisher.
RELATED POST: Simiyu Wanjala, Top KCSE Student Nationally From Murang'a High Finally Speaks