Director of public Prosecution (DPP) Noordin Haji and his brother Abdul Haji have revealed that their father Yusuf Haji wanted to quit his senatorial position.
The children said that before the ailing senator slipped into unconsciousness, he regretted that he was earning a salary that he was not working for. "He wanted us to call the Senate Speaker to resign because he said it was haraam to draw a salary while he was unable to work for the people of Garissa," said Abdul.
Abdul is a businessman who is best remembered for his remarkable bravery during the Westgate shopping centre terror attack where he saved lives by leading shoppers to safety.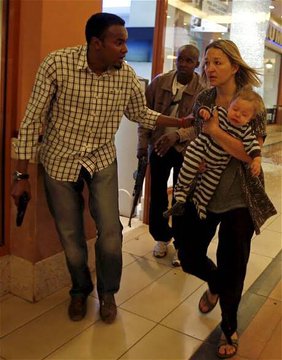 They have since resolved to contribute the equivalent of his six-month's salary to vulnerable children in the county of Garissa.
Noordin and Abdul said the funds will be managed by former Kenya Red Cross Secretary General Abass Guled to ensure equitable distribution across the six sub-counties.
The two brothers, who were speaking publicly for the first time since their father's death, said they kept assuring him that he would be fine and would soon be back to work. They said he also wanted to be recorded asking for forgiveness from Kenyans.
Noordin said they will go around the sub-counties to ask for forgiveness on his behalf. He added that they will fulfill their father's promise to construct a rehabilitation centre in Garissa town.
Noordin thanked President Uhuru Kenyatta for standing with the family during the period that their father had been ill, adding that he would call once a week to ask how the senator was faring in hospital.
The prayer meeting was attended by Treasury Cabinet Secretary Ukur Yatani, Garissa Governor Ali Korane, his Isiolo counterpart Mohamed Kuti and former Garissa Governor Nathif Jama, among other leaders.
President Kenyatta, in a speech read by Mr Yatani, described Haji's death as a personal loss and condoled with his family and Garissa residents. "On the national stage, we have lost a brave and thoughtful leader who stood for fairness and justice for all the people of Kenya."
The President said Haji had walked with him throughout his political life and that he had benefitted immensely from his wise counsel. He recalled how when he lost the 2002 presidential contest, the government lured most of his Kanu party members with senior positions but Haji remained steadfast.
RELATED POST: Those Having A Hand In Dandora Stadium Saga Will Face The Law; Uhuru