If you are a social media lover, then you might have come across a popular Kisii gospel musician Christopher Mosioma aka Embarambamba who has taken his music and videos to another level.
For the longest time, Embarambamba has been performing weird moves in almost all his video shoots, something which has left many Kenyans wondering what may have befallen the Kisii celebrity.
As a result, a number of worried Kenyans who have been following his publicity stunts have been taking to their social media handles accusing him of blatantly practicing night running during the day.
Some have even doubted his state of mind with a myriad of suggestions that he be taken to a rehab or a psychiatric hospital in a bid to check whether he is mentally normal.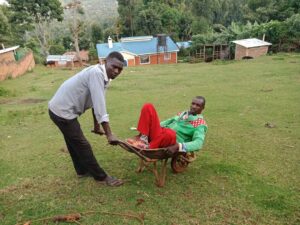 In some of the most violent moves laced with rolling down on muddy grounds, the netizens have been taken aback with some joking that Embarambamba may just be doing what he does best in darkness.
Reacting to one of his videos where he felt with a thud from a tree before riding on a cow, one Facebook user wrote: "Long are the days when night running was a night affair. Some people have decided to do it openly during the day."
While others believe that he may be doing daylight night running, there are those who are of the view that the veteran Kisii gospel musician is possessed by some special demons and should be taken to church urgently for deliverance and prayers.
As a result of his weird behaviors, many people from his region have on several occasions disowned him with some making a joke that they are auctioning him to other tribes for free.
However, on his side, he has always defended himself by claiming that his weird actions and publicity stunts are purely due to instructions from the Holy Spirit.
Funny enough, Embarambamba through his many media interviews has maintained that he does not plan for those weird actions since he just finds himself doing them, a manifestation that he gets controlled by powers from above.
RELATED STORY: "I Spent All My Salary Eating Mtura Meat And Still Slept Hungry"-Lady Confesses