Health CS Mutahi Kagwe has come out publicly to announce that Kenyans are better off with the first dose of the Covid-19 vaccine than receiving none at all.
CS Kagwe has gone ahead to state that he has never heard of anyone dying because they have missed the second dose of the Covid-19 vaccine.
"You are better off with a first dose than none at all. We have not heard from anywhere of people dying because they did not get the second dose," Mutahi Kagwe stated.
During an interview with Larry Madowo of CNN, CS Kagwe confirmed that about 100,000 doses are left from the 1.12 million doses which were acquired in March this year.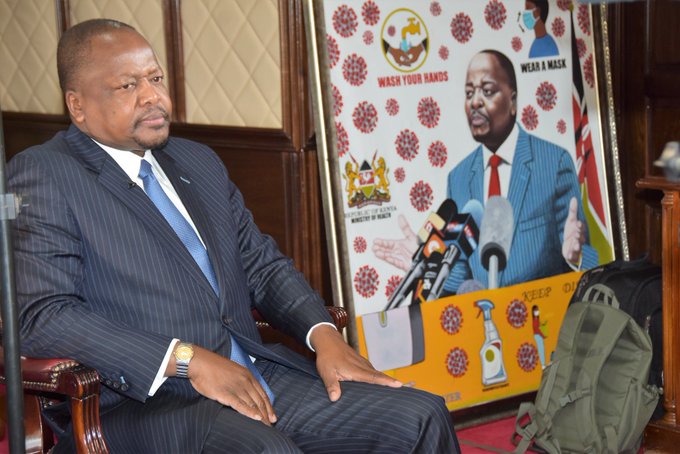 He has gone ahead to state that the government is expecting more doses which are almost hitting expiry dates from countries like DRC.
"The government is expecting an additional 150,000 doses from neighboring countries like the Democratic Republic of Congo where there is no capacity to administer vaccine doses before they expire in June this year," CS Kagwe told CNN.
He has also revealed plans by the US government to give 60 million doses to other countries. At the moment, Kenya only requires about 1 million doses to vaccinate those who had received the first dose.
To calm the anxiety and worry among Kenyans who had received the first dose, CS Kagwe claimed that the first dose in itself according to medical experts offers protection of up to 70 percent.
To address the looming shortage, the government has approached other Covid-19 vaccine manufacturers like Johnson and Johnson.
"With the situation in India, the government is also holding discussions with other manufacturers of vaccines like the Johnson and Johnson among others," Kagwe told Larry Madowo.
However, he has claimed that AstraZeneca Vaccine is unlikely to remain the vaccine of choice in Africa because of the delays in shipments currently being experienced from India.
"As a continent, we must stop believing that there is a good Samaritan out there who is just about to come and help us. It is everyone for himself or herself and God for us all," he added.
Kagwe has insisted on the idea that the first dose is better than none.
"Evidence shows that getting one dose of the vaccine offers you protection from Covid 19 and you are more protected than someone not vaccinated at all."
RELATED POST: Speaker Muturi Ordered To Keep Off Sexual Intimacy, Nyama Choma As He's Crowned Mt Kenya Spokesperson