Chelsea put finishing touches to preparations for FA Cup final against Arsenal as Frank Lampard insists he will not target former team-mate David Luiz as weak link.
Frank Lampard insists Chelsea have not targeted erratic Arsenal defender David Luiz as any kind of FA Cup final weakness.
Lampard and Luiz formed vital cogs in Chelsea's 2012 Champions League triumph, but the Blues' young manager allowed the Brazil defender to join rivals Arsenal shortly after taking the Stamford Bridge helm last summer.
Luiz helped Maurizio Sarri's Chelsea defeat the Gunners 4-1 to lift last term's Europa League crown in Baku, but he headed across London only months later.
The 33-year-old Luiz has endured his share of Arsenal bloopers this term but starred as Mikel Arteta's men stunned Manchester City 2-0 to reach the FA Cup final.
Chelsea boss Lampard hailed Luiz's growing influence on Arteta's new-look Arsenal, admitting his wariness of his old team-mate's threats ahead of Saturday's cup showdown at Wembley.
Asked if Chelsea had identified Luiz as a possible Arsenal weak point, Lampard replied: 'No, I certainly haven't. I look at Arsenal as a collective and look at the individuals of the team, and however we prepare for the game has to remain private.
'But what I do have for David is a real respect. I played with him as a team-mate in the Champions League in 2012 and the bond of that group was huge.
Manchester United have been linked with Raul Jimenez for some time and the latest reports going on in the media are positive.
According to sources, Wolves are close to signing Portuguese striker Paulinho from Braga in order to replace Jimenez, who is on his way to secure a move to Manchester United.
The Portuguese outlet have mentioned that Nuno Espirito Santo wants his compatriot at the Molineux and they are hiring his services for a fee of 30 million euros.
Paulinho started 27 fixtures in the recently concluded Liga Nos campaign and directly contributed (Transfermarkt) in 24 goals (17 goals and 7 assists).
As far as Raul Jimenez is concerned, the Mexican international has been a superstar for Wolves. In the current campaign, so far, he has netted 26 goals and provided 10 assists in all competitions.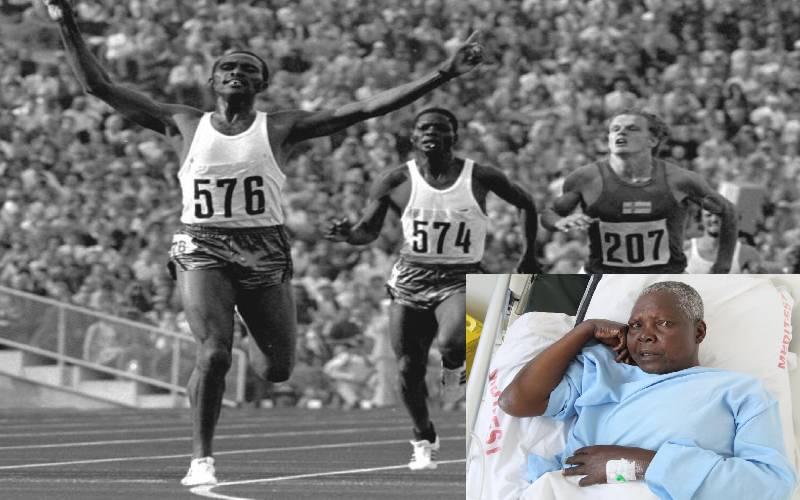 Meanwhile, Kenya's athletics legend Ben Jipcho has been laid to rest at his rural home in Kisawai village in Kitale, Trans Nzoia County.
A sombre mood Friday engulfed Kisawai village as Deputy President William Ruto led the mourners in eulogising the icon who brought fame to the country in the 60s and 70s.
Jipcho died last Friday in Eldoret's Fountain Hospital where he had been admitted after his organs failed due to stomach cancer.
Ruto said the government recognised Jicpho's heroics and urged the Ministry of Sports to hasten the payment of heroes and heroines.
"Jipcho made the country proud when he was competing with the likes of Kipchoge Keino and his efforts did not go unrecognized. The ministry needs to hasten any plan of rewarding the legends who used to compete without any pay," said Ruto.
He added that all podium finishers in major international competitions will be rewarded by the government with those winning gold getting Sh1 million, silver medallists Sh500,000 while bronze medallists will receive Sh250,000.
In another sad story, Stephen Tataw, the man who captained Cameroon to a landmark place in the 1990 World Cup quarter-finals, died on Friday after an illness, the country's football federation Fecafoot announced. Tataw was 57.
Tataw was the Cameroon captain when the team made the last eight at the World Cup in Italy 30 years ago.
They were knocked out by England but famously defeated reigning champions Argentina in the opening game. Cameroon also saw off Romania and Colombia to become the first African nation to reach the quarter-finals.
Two years earlier, the Indomnitable Lions had won the African Cup of Nations with Tataw at the heart of the defence.
Tataw played his club football at home as well as in Japan.
After retiring, he worked with the federation in supervising the national teams.
Athletic legend Ben Jipcho died last week, a pauper, just like many other retired sports heroes in Kenya. His death at 77 got me wondering about what should be done to stop all these embarrassments of legends dying poor and forgotten.