Bridget Achieng's n#de videos and photos were leaked by a lady pimp who exposed her as a prostitute who plies her trade in Nigeria.
The Kenyan socialite has been making numerous trips to Nigeria under the guise of doing business but now the real purpose of her visits has been laid bare.
The lady pimp shared details of Bridget's debauch visits to Nigeria to blogger Edgar Obare who posted them on Instagram.
In her conversation with Obare, the lady pimp reveals that she leaked Bridget's [email protected] after she assaulted a client who didn't pay her the money they agreed on, claiming that he didn't enjoy her services because her body was pathetic.
"I normally give her clients from 50k naira (Ksh 13,194) it depends. So now this particular day I took her to a client that later on she slept with him without protection so that she can make 150k naira (Ksh 39,583). So after the s3x the man said he didn't like her body that he can't pay her the money. She now fought my good customer of many years and I had to ask her to leave.
"Apart from that this stupid girl has been going to eatery and she left me a bill of some food she ate and didn't pay. Everything about her is very fake even her house in Kenya is locked by landlord and before she leave my place her househelp abandoned her son because no food no money she send her. Her work is to live fake life. Even the creams and products she's selling is not working is to dupe others.
"She came to Nigeria to do ashawo work but she wants to be treated as a celebrity of which here is no such privilege. On the streets she lie a lot with filters this is her real body let her not lie. If she goes to toilet you can not even use that same toilet immediately as of the smell like rotten eggs will be left there. You can see her body and the filters," the lady pimp narrated.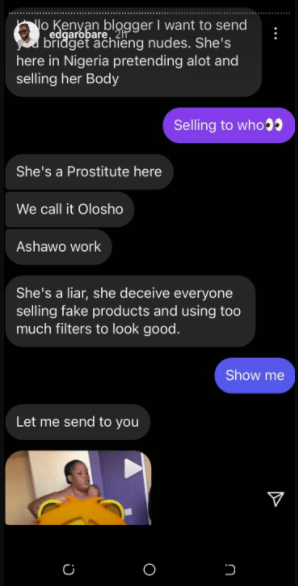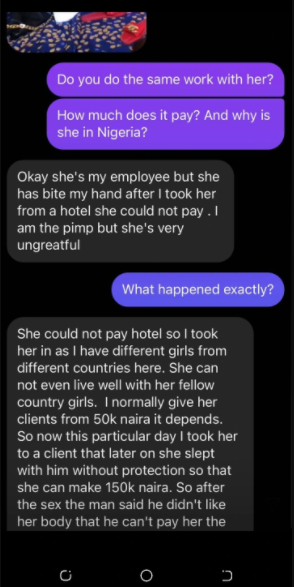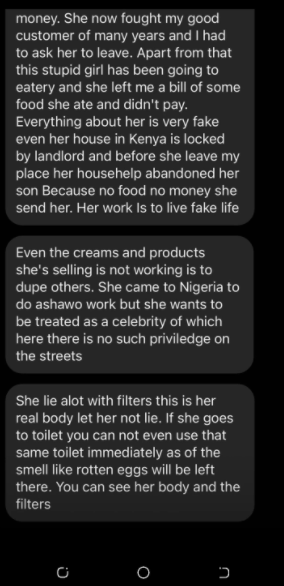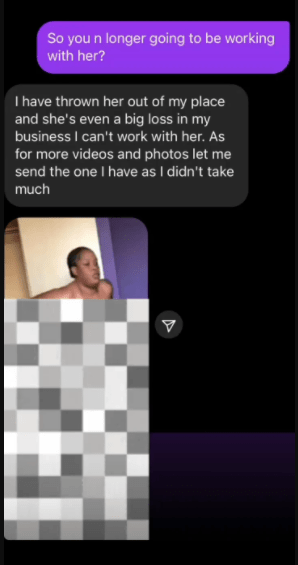 Meanwhile Bridget has decided to put up her son Sekani Rich's Instagram account for sale, days after her nude videos and photos were leaked by the lady pimp.
The Kenyan socialite explained that she was selling her son's account because she doesn't want to subject him to bullies.
"Good Morning guys I have been going through a lot and it made think hard about a lot of things, like if, one day my son gets bullied the same way I have been, I will not be able to forgive myself that's why I will protect him at all cost.
I don't want him to blame me for bringing him to limelight and maybe he is destined for something else. When he is Old enough to decide for himself if he wants to be in social media, I will allow him to do so, until then he is not going to have an IG account, so guys am selling his Instagram account that is at33.8K followers. If interested send me a DM," wrote Bridget Achieng.
Related: Watch the viral clip of Bridget Achieng Kenya is talking about