Blogger Edgar Obare once again on Thursday exposed photos of Betty Kyalo getting cosy with her new lawyer boyfriend Nick Ndeda.
According to Edgar Obare, Betty Kyalo has been making a number of night trips to Nick Ndeda's house.
"She spent the entire weekend with him. And has been sleeping over since. I know BKs car and it's now a regular in our parking lot." Said Edgar while revealing that he has many photos of Betty Kyalo visiting Nick Ndeda.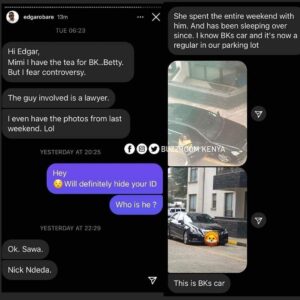 "This was them on Sunday morning. I think they were going for a drive. She had slept there on Saturday.. Even this morning her car is there. It cant just be friendship. More than that defin." Read another thread.
Edgar Obare even added that Nick Ndeda will break Betty Kyalo's heart since he is a perennial womanizer.
"Haiya. That's it for now. More photos will follow as it unfolds. But that guy will break BKs heart and it's just a matter of time. For sure, he sleeps around alot.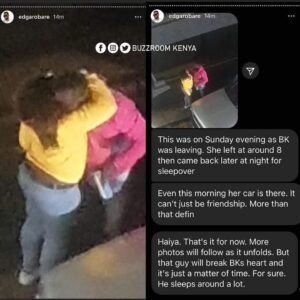 In response to Edgar Obare, Betty Kyalo said: "Naambiwa kuna kachai mahali. Ebu mkunywe kuna baridi sana. Also poleni sana kama hampwendwi. Mimi napendwa sana".
In the meantime, social media slay queen Betty Kyalo did not take it lightly when one of her fans challenged her to get married instead of slaying around.
According to this fan, Betty Kyalo's agemates were getting married while she was just displaying her thighs to the public.
"Wenzako wanaoleka, na wanaume wanaoa, wewe uko hapa showing us your thighs." Wrote the follower.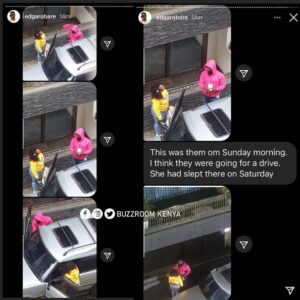 In response, veteran journalist Betty Kyalo said that marriage was not the yardstick for measuring life success, and that it was not even a vaccine.
"Because Kuoa na kuolewa ndio vaccine ya maisha. Gerrarahia. Jitibu." Fired Betty Kyalo.
Since separating with her husband Okari, Betty Kyalo has not shied off from sharing her love life with the public. At some point, the former KTN News anchor blamed her baby dadi Okari for neglecting her and the baby at a time of need when their baby was sick.
She narrated how she single handedly footed the hospital bill, a claim which Okari refuted by claiming that she was being dishonest since he also did his best.
Betty Kyalo was a KTN News anchor before she proceeded to the K24 where she worked for a few months before leaving the station under unclear circumstances.
As a dedicated journalist, she made her name in the media industry and became a brand during her KTN days. Specifically, her Friday briefing show was popular amongst Kenyans where she hosted various celebrities and the popular know your pronunciation program.
RELATED STORY: Michael Njogo Gitonga, Man Resembling President Uhuru Arrested For Stealing