Arsenal fans will wait for long before the ownership of the club is changed as Stan Kroenke is set to reject any new offer from Spotify tycoon Daniel Ek.
Daniel Ek has tabled a second bid of over £2billion from the £1.8billion offer which was rejected by the Premier League club.
Kroenke's stance will not change even though Ek has insisted that he is ready for a long takeover battle and has the backing of club legends Dennis Bergkamp, Patrick Vieira, and Thierry Henry.
It emerged on Wednesday that Ek is readying a new bid and he, like Kroenke, appears to be absolutely resolved in his stance.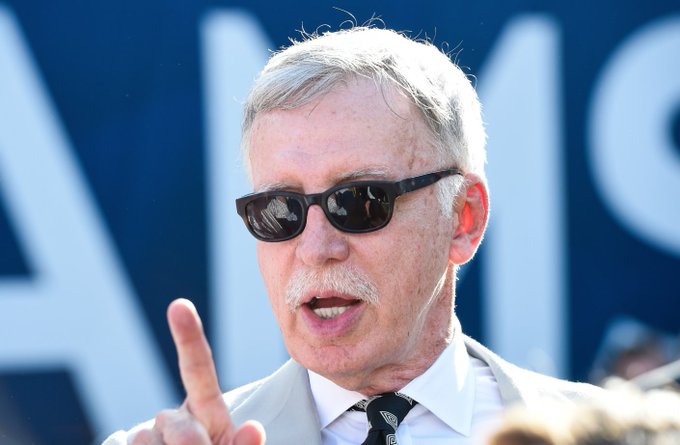 The Swede is a boyhood Gunners fan and his interest in buying the club surfaced following the Super League debacle in April.
"I've been an Arsenal fan since I was eight years old," said Ek at the time. "I love the history, the players, and of course I love the fans.
"So as I look at that I just see a tremendous opportunity to set a real vision for the club, to bring it back to its glory.
"I want to establish trust with the fans and engage the fans again. So I'm very serious.
"I have secured the funds for it and I want to bring what I think is a very compelling offer to the owners and I hope they hear me out."
Kroenke's already-fractious relationship with fans was worsened as he signed Arsenal up for the Super League. The breakaway European division only lasted two days before it fell apart following mass fan backlash, leaving the club's American owners red in the face.
Meanwhile, results on the pitch were also a cause of unrest as the Gunners failed to qualify for European football for the first time in 25 years.
Ek admitted it could be a "long journey" to wrest control of the club and improve the situation, with Kroenke believed to value the club at over £2billion.
SOURCE: MIRROR
RELATED POST: Lukaku Decries Racial Abuse Of Black Players Ahead Of European Championships